Mont-Mégantic Popular Astronomy Festival - in french
The Astronomy Festival is a unique occasion to allow yourself to become passionately inspirered by the stars. Dedicated to the public, this great celebration of the sky will help you discover a whole new approach toward nighttime. In addition to a pleiad of fascinating activities, the Festival is the only time of year that gives public access to Mont-Megantic research Observatory at night. It's not everynight that you are permitted to take a peek at the sky through the most performing telescope of the country.
Mont-Megantic Observatory will be open 3 nights, July 6-7-8. The evening starts with a conference (in French).  You can then take a shuttle to the summit to reach our 2 observatories : Mont-Megantic Observatory where you can listen to as astronomer and observe if the sky is clear, and the Popular Observatory where our guides are waiting to share their passion!
Let's meet in the Universe!
April 8th 2024 – It is the greatest and rarest of all natural shows. It surprises everyone who sees it. It is an event that seems to defy the laws of nature: a total eclipse of the Sun!
This extremely rare cosmic alignment occurs on average only every 375 years in a given place, and the south of the province will have the chance to live one in less than a year! On April 8, 2024, the astronomical event of the century will take place in Quebec. Discover with us this impressive celestial phenomenon, and how to prepare to observe it!
Learn all about the next total Solar eclipse.  IN FRENCH.
If the sky is cloudy : all activities are held as scheduled.  There will be a guided tour of the Observatory (in French) and a presentation called Télescope spatial Webb : la quête des origines in the Popular Observatory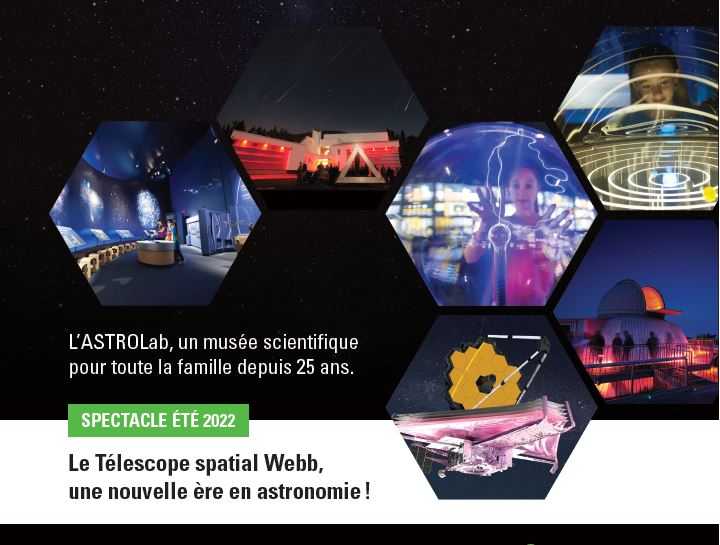 3 nights: July 6-7-8 2023
A Festival reservation gives you access to :
Rates and reservations for festival
Summit access to the Festival acitivities
Please wear warm clothes.  It's very very cold at the summit.
Taxes not included.
Rates subject to change without notice.
Park entry fee not included.
Free of charge for children 17 years and under in the company of their family.
Reservations necessary
15% DISCOUNT  : The Annual Québec National Parks Card offers an advantage here: at all times, cardholders receive a 15% discount on the ASTROLab's activities.