A total eclipse of the Sun will be seen from the South of Quebec on April 8, 2024.
on our way to the total eclipse of the sun, april 2024
The Mont-Mégantic team is working on the event of the century : a total eclipse of the Sun will be seen from the South of Quebec on April 8, 2024, in afternoon. 
We will offer activities on site and from a distance all year before the astronomical event.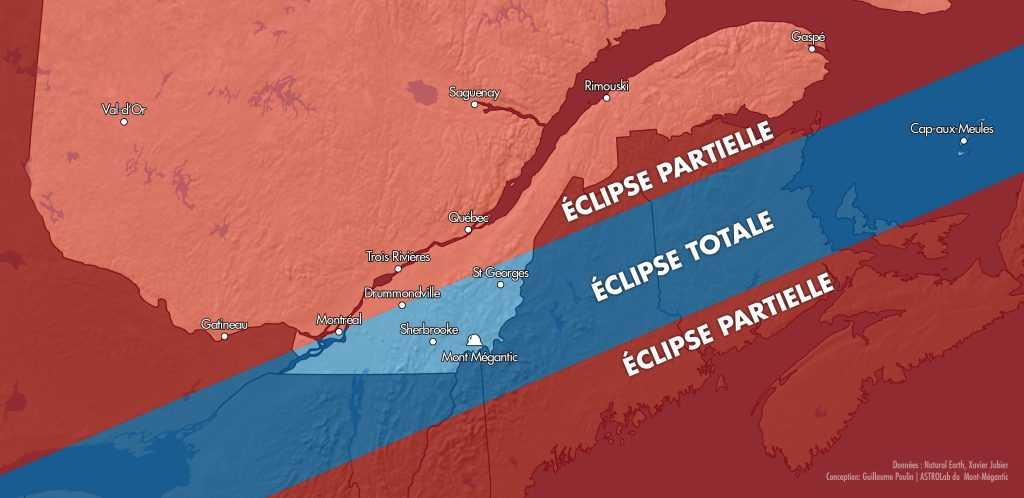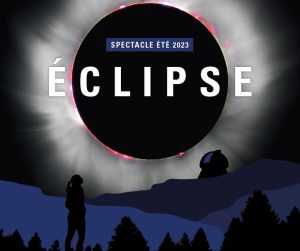 Détail de la présentation principale offerte à l'été 2023, dans le cadre de la soirée d'astronomie à l'ASTROLab : 
It is the greatest and rarest of all natural shows. It surprises everyone who sees it. It is an event that seems to defy the laws of nature: a total eclipse of the Sun! 
This extremely rare cosmic alignment occurs on average only every 375 years in a given place, and the south of the province will have the chance to live one in less than a year! On April 8, 2024, the astronomical event of the century will take place in Quebec. Discover with us this impressive celestial phenomenon, and how to prepare to observe it!
to learn everything about the eclipse
Our team joined the group of experts in astronomy and science communication from Québec and we created together the website eclipsequebec.ca 
All the organizations involved are committed to sharing information and, most importantly, their passion for astronomy.  Enjoy your visit !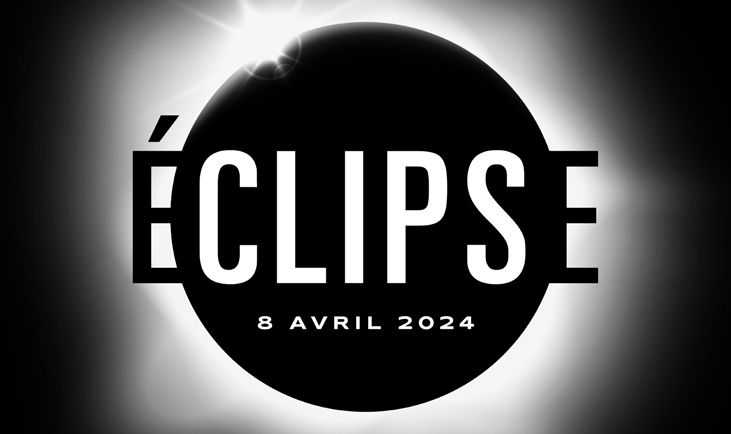 what is a total solar eclipse ?
A solar eclipse is total when the Sun is completely hidden by the presence of the Moon.
how to observe the eclipse safely ?
The easiest way to protect your eyes is to use eclipse glasses. With their almost completely opaque filter, these glasses allow you to observe the Sun at all times, all year round, a few minutes at a time. It is crucial to make sure that the filter is perfectly intact. No holes, cracks or detachments are acceptable.
They are available at the Mont-Mégantic National Park store. You can also find magnets and t-shirts with the effigy of the eclipse of April 8, 2024.
where will you be on april 2024 ?
Get ready for your April 8 afternoon !
To ensure you can observe the eclipse in the totality band, analyze the location of the Sun around April 8, 2023. Make sure you :

– don't look at the Sun directly with your eyes
– validate that it is visible (no blockage of building or mountain) around 15:30